Limestone, also known as calcium carbonate, a kind of compound, whose chemical formula is CaCO3, CAS number 34-471-1. It is a common substance on earth, which can be found in the rocks. It is the main component of animal back shell and snail shells, exists in nature by calcite and aragonite the two kinds of minerals. Calcite belongs to trigonal system, it's the hexagonal crystal, and pure calcite is colorless, it's white in usual. It's containing 56% CaO, 44% CO2, the density is 2.715g / cm³, the Mohs' scale of hardness is 3, it's brittle. Aragonite belongs to orthorhombic strain, it's the diamond crystal, and the color is gray or white, the density is 2.94g/cm³, the scale of Mohs' hardness is 3.5 to 4. In the physical properties of limestone, calcite crystal size is very important. It has a high strength for dense limestone to show the fine crystal structure of low porosity. The density of limestone is 2.65~2.80g/cm³, dolomite limestone is 2.70-2.90g/cm³, and dolomite is 2.85-2.95g/cm³. The bulk density depends on the porosity.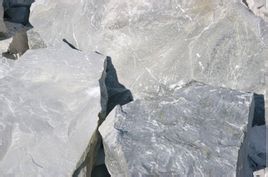 Technological Process
Limestone crushing production line is an important production processes in burnt lime production line and cement production line. Cement can be crushing by Vipeak limestone crushing plant into coarse and fine powder, so as to achieve the national use standards and customer requirements. It is easy to use, particle size of the crushed product is relatively uniform, long service life, low noise, low dust, easy to maintain and repair, low vibration.The specific work flow: Materials transported by vibrating feeder to Jaw crusher, then carried by a conveyor into the back-crushing Cone crusher for fine crushing, and then the material go into the vibrating screen for screening, after crushing, finished materials is sent out by the conveyor, substandard materials are transported back to Impact crusher or Cone crusher for crushing again. With the foreign high-grade calcium carbonate material entering the Chinese market, promote domestic technological progress, accelerate the rapid growth of China's deep-processing varieties of calcium carbonate, and towards the rapid development of diversification, professionalization, and refine direction to expand more applications. Vipeak Group has been successfully installed a full crusher production line for many limestone production line domestic investors, and provide a guarantee for customers to obtain economic benefits, which is the best choice for crusher equipment buyers.
Application Fields
Recommend products