Quartz sand is a hard, wear-resisting silicate mineral of stable chemical properties, whose main mineral composition is SiO2, often in milky white, colorless, gray color, with hardness 7, crisp, no cleavage, conchoidal fracture. It has oily luster, density 2.65 g/cm3. Its chemical, thermal and mechanical properties have obvious anisotropy. It does not dissolve in acid, slightly soluble in KOH solution, and has melting point 1750 ℃ and piezoelectricity.
Quartz sand with physical and chemical properties, makes itself have insignificant place in aviation, aerospace, electron, machinery, and today's IT industry of rapid development. Especially its connotation molecular?chain layout,crystal?shape,?and lattice change rules leads to high temperature resistance, small thermal expansion coefficient, high insulation, corrosion resistance, piezoelectric effect and resonance effect and its optical properties ,which play a more and more important effect in many high-tech products.Quartz sand is an important industrial mineral material, non-hazardous chemical, widely used in glass, foundry, ceramic and refractory materials, ferrosilicon, metallurgical flux, metallurgy, building, chemical, plastic, rubber, abrasive and other industries.?Usually 50 kg or 25 kg bag or ton packaging bag for export are produced for industrial purpose.Commonly used specifications: 0.5-1.0 mm, 0.6 -1.2 mm ,1-2 mm ,2-4 mm ,4-8 mm, 8-16mm and 16-32 mm (in millimetres ).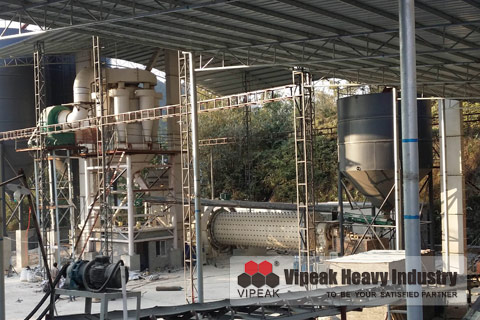 Quartz powder (with quartz sand) is also called the micro silicon powder.Quartz?stone after processed can produce below 120 mesh (less than 120 mesh) product called quartz sand,more than 120mesh product called quartz powder. Quartz powder is mainly used for filtering material, senior glass, glass products, refractories, smelting stone, precision casting, sand blasting, grinding materials, etc.
As a leading domestic professional manufacturer of crushing, sand making, milling equipments,Vipeak produces ?crushing and grinding machines for quartz sand processing ,which get wide application and high praise To provide users with program designs, Vipeak gives full consideration of quartz sand processing features and working characteristics.For crushing and ?screening ,it usually adopts Jaw crusher, high efficient cone crusher, vibrating screen. After that ,it uses a sand making machine (vertical shaft impact crushers) or a ball mill for fine or coarse grinding to produce products of required specifications.when there is a need to?increase the iron removal purification process,we usually use a ball mill for wet grinding.Then products will be sent to the high frequency vibrating screen classification and high?gradient?magnetic?separator for classification, magnetic separation to get required purity product.For production of micro silicon powder or quartz powder, dry powder making method is usually adopted.According to user's process requirement, the euro reinforced grinder, hyper pressure V type mill,upper driven vertical mill or tube mill grade production line are adopted.Single machine can produce as much as 200 tons,and ultra fine powder of 2500 mesh.Vipeak can tailor crushing, grinding equipments for different customers, provide a more scientific and reasonable parameter configuration scheme, and more reliable equipments and the most comprehensive technical support for the clients' project investment.
Vipeak Heavy Industry 24-hour service hotline: 0371-67771006.