Calcite is a kind of widely scattered calcium carbonate mineral in nature. Calcite has many crystal shapes, aggregation of calcite could be crystal, particle, bulk, throatiness, stalactitic or earthy. Calcite is the essential minerals of limestone and marble, it could be applied in many aspects. We all know that karts cave is formed by calcite, and stalactite, white marble are constituted by calcite. Calcite contains Mn, Fe, Zn, Mg, Pb, Sr, Ba, Co, TR substitution; when they reach to a certain level, tetalite, ferrocalcite, zincocalcite, magnesium calcite would be formed. In addition, there are brucite, dolomite, hydroxide and oxide, sulfide of Fe and quartz in the crystal.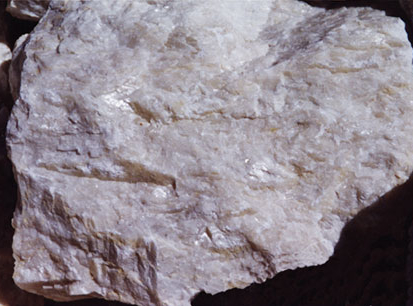 Technological Process
How to process bulk calcite to fine powder in a few microns? The principle is simple. Crusher will process bulk calcite to particle, and then powder grinding machine will process calcite particle to fine powder. Calcite powder grinding system is constituted by electric-vibrating feeder, main grinding mill, powder concentrator, high pressure positive blower, pipeline and dust-removing equipment. Calcite grinding machine system working principle: Material will be taken into grinding mill machine by conveying equipment, grinding force of roller and grinding ring will process material, high pressure draft produced by high pressure positive blower will take final powder to powder concentrator, standard powder will go through concentrator to collector, unqualified powder will be regrinding. Calcite processing machines include high efficiency pulse dust collector, whirlwind powder collector and powder locking machine. Calcite grinding machine adopts qualified powder concentrator, high pressure spring, hook face relieving tool and other patented design, this is the origin of domestic calcite grinding machine technique.
Application Fields
Recommend products