Granite, one of the mainly composed rock of crustal, is one kind of igneous rock which is the production of magma under the condition of condensation below the earth surface, whose main composition is feldspar and quartz. Granite origins from Latin- granum which means grain or particle. And granite get the name because it is plutonic rock which can usually form well-developed and perceptible to naked eyes mineral grain. Granite is a plutonian acid igneous rock which is the production of magma under the condition of condensating below the deep of earth surface, and part of the granite are the production of magma and sedimentary rock under metamorphism like gneiss class, migmatization rock. Granite is mainly composed of feldspar, quartz, black mica, and so on. Quartz content is 10% to 50%, and feldspar about 2/3 which content orthoclase, plagioclase (soda lime) and microcline (potash). Different varieties content different mineral component, and maybe they are pyroxene and hornblende.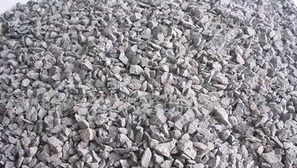 Technological Process
To mine granite, granite sand making machine is necessary. Granite are high in hardness, so rational designing is very important for granite sand making machine. When counting the investment cost of crushing equipment, the designer should also take into consideration of the production cost of the product line. When crushing the granite,the wastage of wear resistant parts is very great,such as, jaw plate, hammer, crushing walls, polishing head and so on. Therefore, on the designing of crushing technology, it is advisable to choose crushing equipment using laminating theory to reduce the wastage of wear resistant parts. Granite sand making product line is mainly composed by feeder, jaw crusher, impact crusher, sand making machine, vibrating screen, belt conveyor and centralized electric control. Except equipment switch and maintaining need labor cost, the product cost of the whole product line have been reduced greatly. This product line is low energy consumption, finished product in good shape, according with national highway material requirement. The design of granite sand making product line is advanced in design, excellent in performance, high production efficiency, convenient in operation and maintenance, economic in operation, stable and reliable in work. The sand making machine series has a great development in China mining machinery industry.The Vipeak Heavy Industry granite sand making machine, espacially in the producting of artificial sand, is the necessary equipment in sand making industry.
Application Fields
Recommend products