Mountain rocks, eroded by wind and rain year by year, is a kind of unique sand making raw material. Because most of the railway and expressway are nearby mountains, the developing and sand making of mountain rocks become especially important. And obtaining raw material locally can help us avoid all kinds of non-convenient brought by long distance transportation.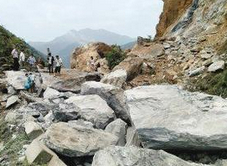 Technological Process
The sand making process of mountain stone is almost same with that of big type ore, which all passed through the belt conveyor process: primary crushing, fine crushing, sanding making, screening, sand washing, finishing product and so on. Equipment employed during the process of crushing and sand making of mountain rocks: relatively hard and big mountain rocks can be crushed by jaw crusher and impact crusher together. And which kind of equipment will be choose finally depends on input size, hardness of the raw material, and final size of the product three factors.Which type of the equipment to be used also depends on the capacity per hour you want. If you have a high requirement of the final used sand, you can add an sand washing equipment at the end of the whole series of the equipment to wash the sand. The final size of mountain rock sand making machine can be controlled and adjusted. Usually, there are three norms of final size: 0-5mm,5-10mm,10-20mm. If need more sand norms, you can just choose different screening equipment. Because the the norm of the product depend on the norm and number of plies of the screen. Vipeak Heavy Industry is a professional company which produces mountain rocks crushing equipment, mountain rock sand making production line. Our equipment have been passed by the test of the market, and admitted by our users.
Application Fields
Recommend products