Pebble is a co-product of yellow sand exploitation. As a kind of natural stone. Pebble is taken from sand and gravel in the mountains produced by ancient riverbed uplift which after crustal movement of thousands of years ago, constantly be squeezed and friction by mountain torrent shock, water transport and washing process. Main pebble products include: natural color pebbles, river pebbles, stone, dry stick stone, stencilled stone, landscaping stone, petrified wood, architectural and cultural materials, non-toxic, tasteless, colorstay. Quality hard, sharp color quaint, with characteristic of natural stone compressive strength, corrosion resistant properties, pebble is an ideal green building materials.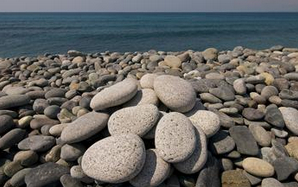 Technological Process
In the increasingly fierce competition, in order to win customers, sand machine manufacturers becomes increasing attention to the automation and intelligent development, so the cobblestone&pebbles sand making machine automation technology will become the future development trend. Vipeak new type cobblestone sand making machine was known as its high efficiency and energy saving, became the most popular model in sand and gravel application industry. In order to achieve high quality and high benefit, we continuously improve equipment performance and energy saving technology each year. A complete set of sand making plant includes: vibrating feeder, jaw crusher, sand making machine, impact crusher, vibrating screen, sand washing machine and other stone equipment. With high efficiency, environmental protection as the core development philosophy of mining equipment, updated sand equipment advantages including low energy consumption and saving cost, etc., and finished product sand is widely used in metallurgy, building materials, chemical industry, coal, bridges, and highways.
Application Fields
Recommend products