Weathered sand is the intermediate product during the weathered process of outcrop. Its durability is poorer than general soil's, and its physic-mechanical property is less stable. The characteristic of the particles of weathered sand are the following: presenting in angular, weak intensity, nonuniform in size, and contains a quantity of fine soil grains. The test and research on the physics properties of weathered sand and all kinds of pavement performance of cement stabilizing weathered sand shows that the cement stabilized sand owns great mechanical property which has broad prospects in application.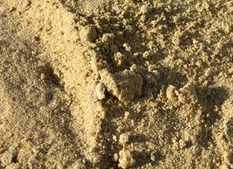 Technological Process
The processing methods of weathered sand. Firstly, crush the excavated weathered sand, and this process can thinner, grind the poor compactness weathered sand under excitation forces. Then, wash the trace amounts of pulverized rock and impurities in order to lower the rate of mud content and clean up the content of sand gravel. Finally, got the sand material which meets the requirement of construction.With weathered sand which is rich in resources as raw material, we can enjoy its characteristic of convenient in taking, low cost, turning "waste" into wealth, process reasonable and practicable. The production line of sand making is mainly composed of jaw crusher, sand making machine of weathered sand (sand making machine of weathered stone), vibrating screen, sand washing machine and belt conveyor. The process of sand making product line of weathered sand: firstly, the coarse jaw crusher will give a primary crushing to the rocks. Then, the produced coarse material will be conveyed to fine jaw crusher by belt conveyor for second crushing. The finely crushed stones will be screened into two different types of material by vibrating screen. The type that meets the size requirement of feed particle size will be conveyed into sand making machine of weathered sand for sand making purpose. The other will be reverted into fine crusher for another crushing. Pebbles conveyed into the sand making machine of weathered sand will be partly made into sand which will be washed into finished weathered sand by sand washing machine, and the other part will have one more time crushing by sand making machine.
Application Fields
Recommend products