River stone, also be called cobble and pebble, one kind of pure nature stone, is exploited from sand hill which appeared as the result of uplifting of riverbed before eons of crustal movement. During tens of thousands of years of vicissitudes, the stones are rounded of the edges due to a flow of water over it, and then buried with sediment under the ground for many years. River stone is mainly composed by silica, the next is a small amount of chemical element like,iron oxide and traces of manganese, copper, aluminum, magnesium, and chemical compound. They have different chromophoric, such as red to blue for iron, copper, purple for manganese, yellow for silica gel stone, jade color with green and so on. Because the element types and content of the chromophoric ion that dissolved in silica hydrothem are different, the stones present in different colors from light to dark. And river stone are in black, white, yellow, red, atrovirens, cinerous and so on.River stones are common nearby sea and river. Black sands gathered on them, and the black sand take up more one half on pebbles. Because widely distributed, good in shape, they are the ideal choice for courtyard and road paving, and building.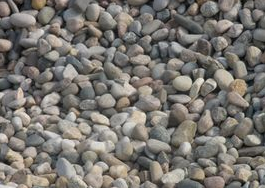 Technological Process
River gravel is a pure natural stone, rich in resources, cheap in cost. River gravel sand making machine become a new trend in present days because of increasingly shortage of natural sand.proved new generation sand making machine aimed at river gravel after years of research. Base on working principle and new technology of all kinds of crushers, the river gravel sand making machine is designed. Its typical use is to meet the current artificial mechanism sand industries. And it is the preferred product on replacing cone crusher, rod mill-type sand making machine, impact-type sand making machine, sand making straight-through. After optimal designed the deep cavity type rotor, this river gravel sand making machine's throughput has been improved about 30% , the complete machine service life improved over 40%, which has saved the cost and improved the efficiency greatly.The sand making production line of river gravel: firstly, the coarse crusher broke the stone preliminarily. Then the produced coarse material will be conveyed into fine crusher by belt conveyor for second crushing. The finely crushed stones will be conveyed to vibrating screen to be segregated into two different kinds of stones. The part that meet the input size requirement of sand making machine will be conveyed into sand making machine, the other part will be returned to fine crusher.Part of the sands that be conveyed into sand making machine will be made into sand and then be washed into produced sand by sand washing machine, and the rest will be returned to sand making machine for anther crushing. Vipeak Heavy Industry river gravel sand making production line is widely used in processing, fine crushing of more than 300 materials in mining, cement, coal, metallurgy, building materials, roads, railways and other industries. This set of river gravel sand making production line are stable and reliable in operating, simple in technology and structure, convenient in repairing.
Application Fields
Recommend products