Preface: "one place one feeling, starting Vipeak's miles plan". Since Vipeak's establishment, Vipeak has become a rising star rapidly for its quality, responsibility, refinement, persistent, and be strict to itself with the business philosophy "to be your satisfied partner" in these years. Now, Vipeak's products are known as intelligent, innovative, and applicable at home and abroad. Its business network through overseas just like the meaning of Vipeak's logo: it has been set up a close collaboration, interdependence, and mutual benefit relationship.

Looking back to the Vipeak's developing history, it is an inspirational history. Since the beginning of establish, it has been stunning in heavy machinery industry for its rapid development, and then it become a well-known brand in this industry with steady and stable development. In these terms, it embodies the wisdom, strength, hard and sweat of Vipeak team. The market and business opening to worldwide are the chain reaction brought by every main products of Vipeak. Vipeak is starting at miles plan, for product shining in everywhere. Recently, VK-3 Modular Series of Mobile Crushing Station has been debut in Xuzhou.

As the background of blue sky, white clouds, green mountains and leaves, VK-3 Modular Series of Mobile Crushing Station entered to plant slowly. It has been welcome and praised by the customers with its good quality, high efficiency.

VK-3 Modular Mobile Crushing Station not only expanse Vipeak's territory, but also brings a wealth of guidance experience to this area. By Vipeak's professional staff's Introduction, high intelligent models' improving is based on the marketing feedback of traditional mobile crushing station and aim to serve customers and higher performance. So its popularity not an accident for hardware and software's perfect performance with its highly efficient energy-saving, intelligent and environmentally friendly advantages widely acclaimed by the industry.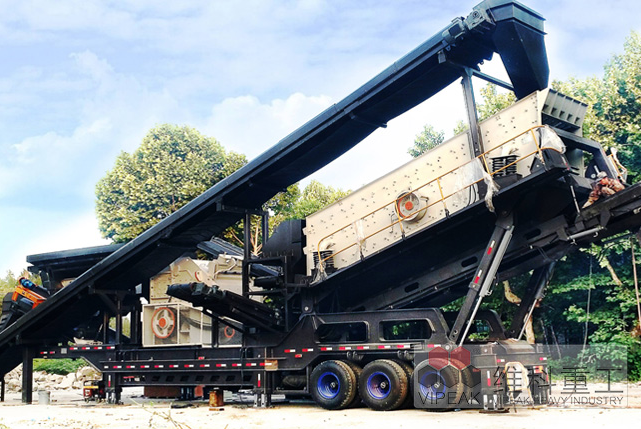 VK-3 four advantages, no pressure on crushing and screening
Advantage 1: ship type frame
The body of VK-3 series of mobile crusher using the ship type frame with solid structure and operation stably.
Advantage 2:PFS impact crusher
Its crushing ratio has been improved greatly with switch freely between primary crushing and secondary crushing.
Advantage 3:Hydraulic system PLC control
Advanced hydraulic design and PLC control is insurance for flexible parking and entering product pattern quickly.
Advantage 4: integrated design
This design meets to customer's integrated need on stone processing, construction waste crushing, feeding and screening.

With market's change and customers' demands improving, Vipeak's products have been still researching and upgrading. Nine years, the original heart is never change, "dominating is not desirable, flourishing is good". So Vipeak has committed to serving new and regular customers and provide products with good quality for more areas and business continually. In the future, Vipeak will be glorious for exchanging among industries and learn from each other.