2017 Mongolia International Mining Exhibition was held in Ulaanbaatar in April.

The representatives Wang Aihua and Li Chaozhou take part in this exhibition, in order to open up Mongolia market, improve Vipeak's brand awareness and strengthen the cooperation and communication with Mongolia mineral enterprises. During this exhibition, we gain attention from many local enterprises, buyers and trade partners.
Mongolia International Mining Exhibition was jointly organized by Mongolia Energy Department, Mongolian National Competitiveness Association, Mongolian Mining Club, and Minex Limited Company and was held in Ulaanbaatar Sports Center every year in April, which has been held for seven consecutive sessions till 2017. As an important exhibition of Mongolian mining industry, this exhibition attracts exhibitors around the world, while China become its large participating groups and dozens of Chinese enterprises show up this exhibition, including Ningbo Heshun, Wuxi Drilling, CIMC Huajun, Henna Vipeak, Beijing Bochuang Kaisheng, China Railway 19th Bureau etc.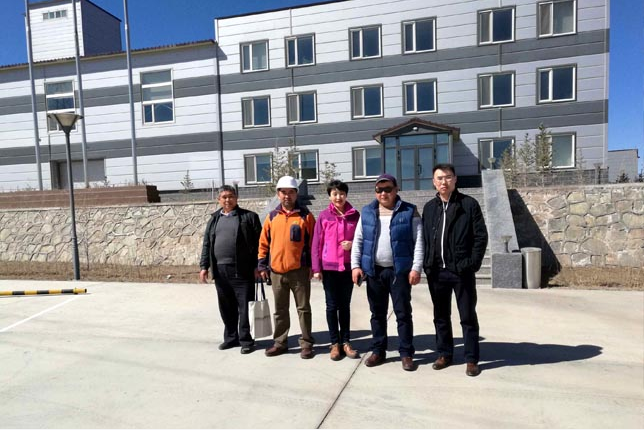 The government of Mongolia pays more attention to the development of mineral industry for its rich mineral resources. In recent years, with introducing China's mineral equipment and technology, Mongolia market has become one of the popular markets that china pays more attention to it. The grinding mill and stone crusher that we manufacture has been into the Mongolia market for many years, for that we established good cooperation relationship with many enterprises in Mongolia. We not only show Vipeak's brand image and product service, but also strengthen horizontal communication of product and technology in mineral industry, meanwhile, deepened understands Mongolia's mineral industries to develop Mongolia market.

With the development of Mongolian mineral industry and good market prospects, it is an opportunity for our mining machinery industry that the increasing Mineral equipment capacity. As the leader of Chinese mining machinery industry, in order to promote the development of china and Mongolia, Vipeak will open up market of Mongolia for seeking double-win.