Our country is a big coal-producing country and coal is the basic fuel for electric power production. With the development of the national economy and power industry, fly ash and bottom slag are major solid wastes from coal-fired power plants, and their emissions are increased year by year. In recent years, the comprehensive utilization of furnace slag of power plant and fly ash gets more and more attention and recognition of the environmental protection department and the public, which can turn "waste" into wealth.
Fly ash particle, with multiple pass honeycomb structure and larger specific surface area, can have high adsorption activity. Its particle size ranges from 0.5 to 300 microns. And bead wall with porous structure, has strong water imbibitions and its porosity can reach as high as 50%-80%. Fly ash after grinding processing can be widely used in roadbed , concrete admixture, cement, asphalt mixing station, and other fields. And how to choose the more advanced, stable and energy-saving grinding processing equipment determines the economic benefit of the ash comprehensive utilization project.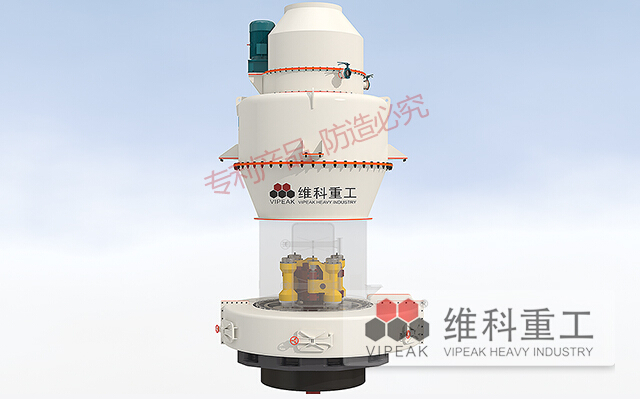 Vipeak's European hyper pressure V type mill adopts unique combined flat pendulum structure.Compared with the traditional mill such as Raymond mill, high pressure roller mill, trapezium mill and ball mill, it has a number of outstanding advantages such as constant grinding working area, high grinding pressure, high output, and low unit consumption. And in recent years it has achieved remarkable market feedback, also in the field of fly ash it has been well used in bottom slag processing. With its outstanding technology advantage, and advanced experience in the field of ash powder grinding, Vipeak successfully won the bid for ash powder grinding production line project of Wuhan Steel Group. YCVXO160-QS4 European hyper pressure V type mill is tailored for the customer with saving energy efficient, reliable, durable, intelligent, and high performance characters under the basis of fully considering the material characteristics of fly ash, slag furnace bottom. Big and little roller arrangement can improve the powder-selecting efficiency; more suitable for the powder raw material processing, it can ensure the stable and reliable equipment operation; Roller grinding ring adopts special high chrome material, several times the service life than cast steel; The discharge powder tube and powder collector adopt special wear-resisting process, prevent the erosion of ash powder on the pipeline; Host, feeding and powder selecting system adopts frequency conversion control, and make the equipment achieve the best efficiency; the pulse dust collector can fully prevent all dust ,achieving the first level of environmental standards; the PLC control system can realize full automation and remote control. At present, the equipment of project is in orderly production and is expected to begin in March next year. The whole configuration of machine has reached the high level of the domestic country, and we believe it will become a standard model in the field of ash powder grinding.